August 12 – September 23, 2016
OPENING RECEPTION | FRIDAY, AUGUST 12, 5:30 - 8:00pm | FREE
accepted artists
Chelle Delaney
Erin Furlong
Leah Gose
Megan Koons
Charlotte Schmid-Maybach
Shima Shanti
Wendy Turner-Frey
THE EXHIBITION
Assemblage and collage involve the thoughtful combination of elements to create something new and original. Each process differs significantly when materials are chosen, collected, and combined with one another, however, the mentality of both techniques is to synthesize materials to produce a cohesive result. Putting It Together: The Art of Assembling will showcase assemblage and collage pieces alongside one another, combining both practices into an assembled collection of 2D and 3D artwork.
Kevin Hughes was born and raised in Southeast Missouri. He earned a Bachelor of Arts Degree from the College of the Ozarks, Point Lookout, Missouri and a Master of Fine Arts in Ceramics from Indiana University, Bloomington, Indiana. Mr. Hughes has exhibited his creative work in over one hundred and fifty international, national, and regional exhibitions. His work is held in international and national collections including the Standard Ceramic Supply Company, Pittsburgh, PA, Taipei County Yingko Ceramics Museum, Taipei County, Taiwan, R.O.C. and the Arkansas Art Center Foundation Collection, Little Rock, Arkansas. Mr. Hughes is MFA Associate Professor at Missouri State University.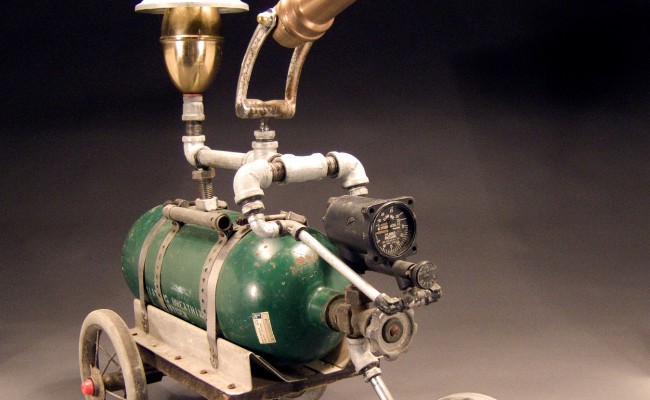 EXHIBITION SPACE
The Foundry Art Centre is a dynamic, interactive center dedicated to the creation & presentation of contemporary visual and performing arts. Our mission is to connect people with the arts through exhibitions, studio artists, performances, & education. Featuring a state-of-the-art gallery, the Foundry hosts national and international juried fine art exhibitions and curated traveling exhibitions.